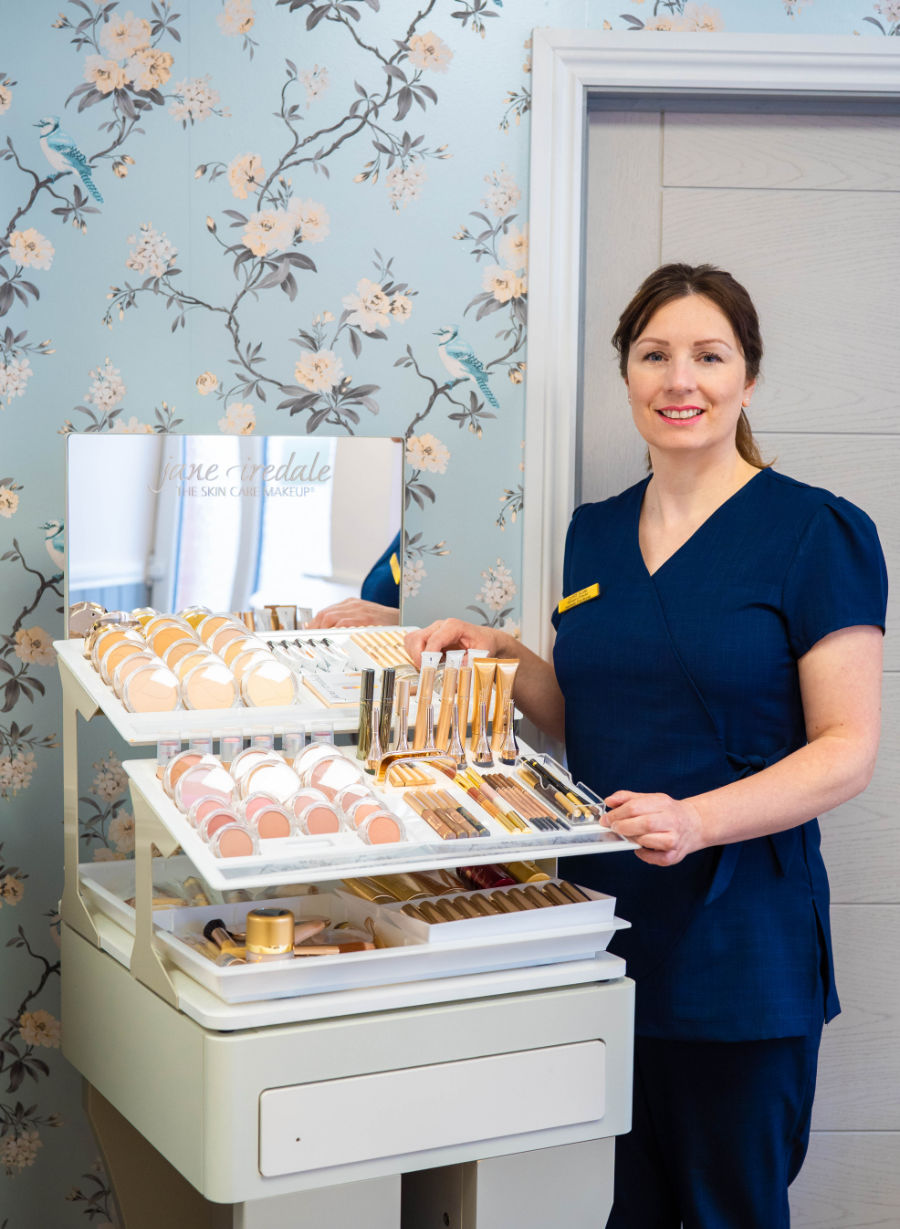 About
Clare
Clare's Cosmetic Skin Centre offers you a range of non invasive cosmetic treatments, using advanced technology. With 20 years experience and technical skill, skin imperfections can be treated, and signs of ageing can be reduced and prevented. At Clare's Cosmetic Skin Centre, IT IS ALL ABOUT YOU. Time and dedication will be given to support your skincare needs. So you can enjoy life looking your best.
Clare is well known for her competence and easy going, caring personality who has a genuine care for people, so visits are enjoyable. She has a good rapport with healthcare professionals and clients are often referred to her. Visiting a cosmetic clinic for the first time is both exciting and daunting and every effort is made to insure all the treatments are explained fully and written literature provided so clients can make an informed decision in their own time. Safety is paramount and this is a main consideration in selecting the most appropriate treatment for the individual.
Before establishing Clare's Cosmetic Skin Centre, Clare Jilani was the co founder & managing director of The Island Cosmetic Clinic, Her career in Aesthetics began in 2001. Cosmetic treatments were sparse on the Isle of Wight and the rest of the UK at this time. Clare has watched the industry grow and trained other Nurses and Aestheticians. During her time at The Island Cosmetic Clinic she was the registered manager from 2006-2018 for the clinics registration with the Care Quality Commission. This role involved a high level of responsibility to deliver good clinical governance, which Clare continues to practice through her work.
Whatever your skin concerns are Clare will listen to you and do her utmost to deliver the safest and most effective treatments to suit your needs and budget.
Qualifications
Diploma with Merit in Child Development & Psychology
Diploma Beauty Therapy level 3 . Grade Distinction
NVQ 2 Facial treatments & NVQ3 Beauty Therapy
Diploma Jane Iredale Mineral Make Up & Application Techniques
Chartered Management Institute Level 3 Certificate of Management
Qualifications & Experience in Aesthetics
July 2004 – Trained & Certified in the use & sales of Skinceuticals Skincare & Skin Scanning.
Sept 2004 – Trained in the  Treatment Protocols, Maintenance and Marketing of Dermagenesis Medical Microdermabrasion.
Nov 2006  Certificate of Registration as Registered Manager Care Quality Commision
Jan 2006 – Trained & Certified in Theory, Use & Application of Jane Iredale Mineral Make up.
June 2006 – Trained in treatment use of Solera Titan Skin Tightening.
Sept 2006 – Trained & Certified in Core of Knowledge Safety & Use of Lasers
Nov 2006 – Trained in Practical & Theory Use of Luminous Quantum IPL System
Nov 2006 – Trained & Certified in Mouth & Teeth Anatomy & Teeth Whitening
Aug 2010 – Certified in Refresher Clinical Training in the use of Solera Titan Skin Tightening
Oct 2010 – Certified in the Safe & Effective Operation of Laser Lipolysis I-Lipo
Nov 2010 – Certified as a Laser Technician in Photo- medicine
Aug 2012 – IIAA Minerals; The Foundation Training
May 2013 – Skinceuticals Diploma in Skin Peels
Oct 2015 – Diploma of Excellence in Cryothetics for treatment of benign lesions.
Nov 2017 – Intermed Clinical Core Of Knowledge for Aesthetic IPL & Laser
July  2018   ihASCO Certificate in safeguarding Children.
July  2018   Certificate of training in Beauty Therpy infection control
July 2018    Certificate of  Chaperone Training.
April 2019  Skinceuticals Peels & Facials
May 2019 Dermalux LED Phototherapy Training
Sept 2020 Venus academy, Venus Viva Training
July 2022 Pure Hydro Pure Hydro Training